As we approach the midpoint of 2023, we are excited to kick off a series focused on key developments in the food industry in the first half of the year. Join us as we examine key food industry developments through various lenses such as regulatory, innovation, collaboration, investment activity and consumer acceptance.
First up is a look at the regulatory landscape for food innovation in the first six months of the year.
USDA approval for commercial production of cell-based meat
Unarguably the biggest regulatory development so far this year is the USDA's stamp of approval for the sale of cultivated meat in the United States. In June 2023, the USDA's Food Safety and Inspection Service (FSIS) granted Good Meat and Upside Foods, two California-based companies, a Grant of Inspection (GOI) to sell cultivated chicken, paving the way for these companies to begin commercial production of cell-based chicken in the United States. While there were indications this approval was imminent given the "no questions letter" issued to Upside Foods in late 2022, the approval process moved along fairly rapidly. This pace could potentially bode well for other cell-based meat companies looking to secure regulatory approval. Although other hurdles remain such as cost, scalability and consumer acceptance, this is a major step forward in cultivated meat production.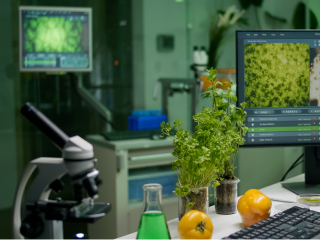 Gene-editing technology approved for modifying crops
In what has been a busy first half of the year, the USDA also approved the use of CRISPR-Cas9, a new gene editing technology for modifying crops. CRISPR-Cas9 is a precise, efficient approach to gene editing with the potential to improve crop yields, increase nutrient density, and enhance resistance to pests and diseases. CRISPR-edited crops could also be engineered to be more tolerant of environmental stresses, such as drought and heat, thereby promoting sustainable food production.
FDA issued guidelines for labeling plant-based foods
Although plant-based foods are fast becoming mainstream, there is still considerable debate on how best to label these foods. In a bid to lessen the confusion, the FDA issued guidance on the labeling of plant-based foods in February 2023. Per the FDA, labeling for plant-based foods that are intended to be substitutes for animal-based foods must not be misleading. Key takeaways from the FDA guidance include:
the term "milk" could be used in a descriptive manner, such as "soy milk" or "almond milk." The term "milk" could also be used in a qualified manner, such as "plant-based milk" or "milk alternative."
manufacturers may also use voluntary nutrient statements on their product labels provided such statements are truthful and non-misleading. For example,

a plant-based milk alternative could state that it is "a good source of calcium" or that it is "low in saturated fat."
a plant-based milk alternative should not state that it is "the same as cow's milk" or that it is "a healthier choice than cow's milk."
The FDA is currently considering feedback from the public on the guidance document with final guidance expected later in 2023